Last updated on June 4th, 2019
⏱ Reading Time:
2
mins
This app is no longer available on the App Store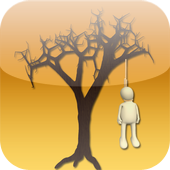 We all have played at least once all-time classic games and have loved for sure some of them, no matter how many times we come across them during our lifetime. So here it is "Mr-iHang", a new great version of the well known hangman game, where our star is Mr-iHang and it is your duty to keep him not hanged. This game will really thrill you, as the more you play the more you enjoy and get addicted to it. Play either alone or with friends, fight against time if you want and gather as many points as possible.

App Info
Price: $0.99 (€ 0.79)
iOS: 4.0 or newer
Current version: 1.1
Updated: Dec 20, 2011
Category: Games
Size: 1.7 MB
Rated: 9+
Language: English & Greek
Most important features included in game:
Play in two languages: English or Greek. Specifically you can select language for both interface and game and/or combine them.
Choose and play among three game types:

Single game: Guess the secret word without hanging our star, Mr-iHang and try to do the best score against time.
Round game: Play as more as you can one round after another, concentrating points and fighting against time. You don't stop until you lose. How far can you go? This type of game is really addictive.
Opponent game: Are you bored playing alone? No problem. You can hang your friends. Set your custom secret word and let others guess it.

Enjoy the game to maximum with funny in-game sound effects.
Use the in-game help button if you are about to lose in order for some letters to be revealed. But be careful, the help is available only once per game, so be wise and use it just when you need it.
Set the timer duration to 15 seconds, 10 seconds if you are good enough or turn it off.
Begin a game and finish it at a later time if you need to. Auto-save feature will save your game status every time application exits and a game is still running, so you can continue playing it later.
Review your highscores and game statistics at any time. If you don't like them, you can clear them both.
Alter various options, among them language, sound effects, player name and timer duration.
Once you start playing you'll love it. Are you good enough? Prove it here. Set the options you prefer and go. But be aware… You have only six error guesses at your disposal in each game just before Mr-iHang become… a hanged and late Mr-iHang. If you always liked classic game, here is your chance. Be the winner in a great version of hangman game.