Last updated on June 4th, 2019
⏱ Reading Time:
2
mins
This app is no longer available on the App Store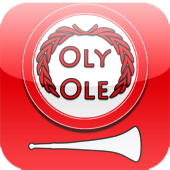 OLY – Ole app aims to bring in your hands and your mobile phone some of the greatest chants of the legendary Piraeus' Greek team! Take now the stadium's tiers with you and listen to your favorite team chants and slogans, no matter where you are! All chants are real sound recordings directly from the stadium in order to keep your passion alive! While listening, watch photos from stadiums, matches and tiers rotating on your screen.

App Info
Price: $0.99 (€ 0.79)
iOS: 4.0 or newer
Current version: 2.1
Updated: Dec 17, 2011
Category: Sports
Size: 7.6 MB
Rated: 4+
Language: Greek
Apart from playing chants and showing images from the stadium, there are the following extra features:
Edit chant lyrics.
Edit chant title.
Delete chants.
Record new chants.
During playback, there are also some new possibilities:
Pause and continue playing the chant.
Turn on or off the lyrics.
Turn on or off the background rotating images.
OLY – Ole! An application that every fan must have!
*Note: This application is intended to be used by people having Greek origin as all the chants are in Greek.